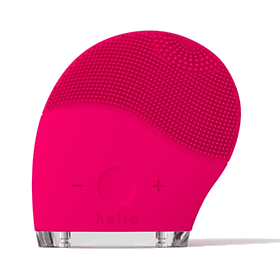 About Halio
Halio is a brand of facial cleansers that use Sonic Wave Cleansing technology to help clean 10 times deeper and remove up to 99% of excess oil as well as residual makeup while still being gentle without causing aging to the skin. At the same time, Halio also helps to relax the face after a stressful working day.
Halio face washing machine with 5 outstanding advantages:
Using vibration wave technology, deep clean but still gentle to the skin, even dry and aging skin.
Change up to 14 vibration modes, suitable for even the most sensitive skin.
Wider brush surface, quickly washes the entire face.
Easily get into the most difficult corners of the face, comprehensive cleaning.
Silicone cover for charging port, absolutely waterproof.
About design
Halio face washing machine has a compact, delicate design and is relatively comfortable in the hand, convenient to operate. The device is placed in a transparent hard plastic box that effectively resists impacts, with a USB charger and user manual. This design also has 5 colors for you to choose from.
Last update was on: November 13, 2022 12:22 PM
Last update was on: October 26, 2022 12:53 PM
Technology and Features
Halio facial cleanser product uses Sonic vibration technology (in Foreo face wash machine is T-sonic sound wave), which helps to deep clean and remove excess oil and dirt on the skin. Other Halio tests also show that you can even use the Halio face wash to remove even makeup.
The difference between Sonic Wave and T-sonic according to the manufacturer's explanation can be understood that T-sonic helps to clean more deeply and smoothly, but in fact, when I use it, I find this difference very very difficult. detect. Perhaps it will take a longer time to feel the product.
What skin types is Halio face wash for?
Well, for sensitive skin due to acne, inflammatory acne or thin skin, showing capillaries, I think you should not use a face wash because it can make the skin condition worse. For those of you with sensitive skin, you can try the brand's newly launched Halio Sensitive facial cleanser, which is even more amazing. I will review this in detail in the next post.
Youtube